I was a little skeptical when I sat down to watch Netflix's new movie, seeing as how it had a lot of similarities to many shows out there… You know, racial tensions between cops and citizens in lower income cities; the rich stay rich; corruption within the police… Sound familiar?
The main difference is that instead of the world is filled of both human and mythical creatures.  Think of it as Law and Order meets World of Warcraft.  Now, here's where it gets even more interesting.  The story follows an unlikely pair of cops; Daryl Ward (Will Smith) a human and the other, Nick Jakoby (Joel Edgerton) an orc.  Whys is this interesting? Well it is because one, orcs are the lowest of the low.  They are the least respected race alive.  What makes this worse is that Jakoby faces prejudice from his race for becoming a cop and by humans for just being an orc.  It also doesn't help that Ward was shot and Jakoby couldn't catch the assailant.  Ward obviously doesn't trust his orc partner and there is tension…
Out responding to a disturbance, they come across a safe house for the Shield of Light.  Inside are multiple corpses and the torso of an elf that has been, what looks like, melted into the wall.  I have to say, it is some of the most disturbingly beautiful special effects/makeup I have seen.  Upon further searching, they find a young elf and a wand.  Wands are said to contain the ability to grant any wish, but there is one problem.  It can only be wielded by a Bright.  If anyone other than a Bright touches the wand, they explode.  Really…  massive explosions… Like body parts turned to goo explosions…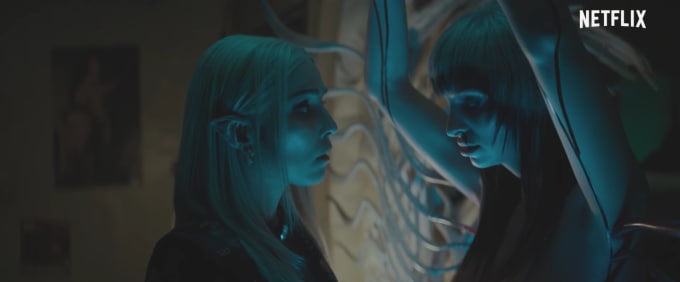 Their finding leads to many issues and surprises, which will not be discussed here… spoilers…
This show really surprised me.  I really thought I would be stuck watching another boring crime show, but with supernatural creatures.  However, the writing was fairly good.  I especially loved how they wrote Jakoby.  His lack of understanding sarcasm and Joel Edgerton's witty delivery made the banter between him and Smith hilarious.  There were some obvious flaws, but overall, this was well written and beautifully shot.
Oh, and Will Smith trying to kill a fairy… priceless.
Check the show out.  Laugh…  Be grossed out by the pink mist and other gory things.  Enjoy…
And here is my coverage of the Bright conference at SDCC.